Club Policy
We aim to provide our regulars and visitors with good quality and value for money. Our guest performers are invited both from local talent and international names.
Most Sunday evenings are run as singarounds, with the running order usually being decided by the order in which people arrive. Solo performers are asked to provide one item each time round, duos and groups may do two if they wish. There is no need to 'book a spot' in advance, we try to be as fair as we can to everyone.
There is no admission charge for our Singaround, Guest Nights are usually between £2.00 & £3.00. During the beer break we run a raffle; on guest nights we collect the admission charge during this break.
On a Guest Night our regulars are given preference for 'Floor Spots', and we cannot promise that there will be time for everyone to have their turn. If you wish to 'book a spot' on a Guest Night, we will endeavour to fit you in if time allows.
Please try to avoid walking around the room when someone is performing, and try to enter the room as quietly as possible, remaining by the door until an item has finished. There is plenty of opportunity for conversation during the beer break - please respect each performer's efforts by remaining quiet during their 'turn'.
Those who bring an instrument and wish to join in during another's performance are politely requested to exercise discretion, and to ensure that this 'help' is welcome - it is clearly bad etiquette to impose your arrangement upon another's efforts, and downright crass to drown them out!
We always welcome suggestions, constructive criticism and, of course, praise! If there is a performer you would like us to book, and can put forward a strong argument as to their suitability for our club, please do so - in person, on the telephone or via email. If you don't like the way we run things, and can convince us that your suggestions will work, please do! But make sure you are wearing a good, strong crash helmet, as Pauline packs a mighty punch!!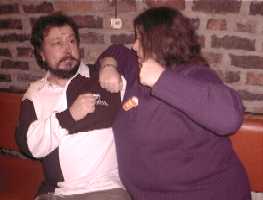 John and Pauline