Singaround
What exactly is a 'Singaround'? Well those who want to sing can sing, those who want to listen can listen, and those who want to join in with choruses can... erm... join in with choruses!
Admission to singarounds is free, and we run a raffle during the beer break.
Anyone is welcome, though we respectfully suggest that ours is an acoustic club, so we prefer you not to bring an instrument which relies upon electricity! 'Backing tapes' are also inappropriate - if you need accompaniment, one of our regulars is usually able to oblige.
Most Sunday evenings are run as singarounds, with the running order usually being decided by the order in which people arrive. Solo performers are asked to provide one item each time round, duos and groups may do two if they wish. There is no need to 'book a spot' in advance, we try to be as fair as we can to everyone.
Please try to avoid walking around the room when someone is performing, and try to enter the room as quietly as possible, remaining by the door until an item has finished. There is plenty of opportunity for conversation during the beer break - please respect each performer's efforts by remaining quiet during their 'turn'.
Those who bring an instrument and wish to join in during another's performance are politely requested to exercise discretion, and to ensure that this 'help' is welcome - it is clearly bad etiquette to impose your arrangement upon another's efforts, and downright crass to drown them out!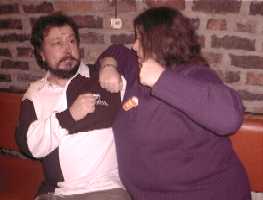 John and Pauline