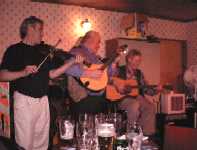 <<< Stuart, guitar (right of picture), Al Mayall, mandola (centre), Jamie Knowles, fiddle (left of picture), and Ray Greenwood (electric bass - completely out of the picture!).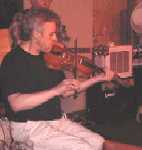 Jamie and his Hardanger Felle
(pronounced 'feller')
Apparently a hardanger is a Norwegian fiddle with eight strings, and 'felle' simply means 'fiddle'. Four of the strings are played in the normal way, and the other four are 'sympathetic' strings - probably because they've heard Jamie's jokes...! This particular Hardanger was made in that well-known Norwegian village called... erm... Dobcross!