Saturday -
1:00pm
Singaround
3:00pm
Roy Clinging
Songs and tunes of old Cheshire, on concertina & guitar
5:00pm
Singaround
6:00pm
Vic Gammon
(ex-Etchingham Steam Band, The Tale of Ale)
with
Annie Dearman
and
Steve Harrison
8:00pm
Singaround
9:00pm
Dave Burland
This well-known guitarist singer - songwriter has enjoyed success as a solo performer, & with Hedgehog Pie in the late 1970's. Also a well-known session player. Barnsley's proudest son is still regarded with deep affection on the folk club scene, considered by many to be a seminal influence.
Sunday -
2:00pm
Singaround
3:00pm
Kieron Means
<!b>A singer primarily of traditional, but also of contemporary songs, and a guitar player of great merit. Received great acclaim at Whitby in 2000, and at Fylde this year.
5:00pm
Singaround
6:00pm
John Spiers
and
Jon Boden
<!b>Spiers (melodeon) & Boden (fiddle) are an exciting young duo who play a lively mix of traditional songs & tunes. Spiers' playing is dynamic & varied, whilst Boden is one of the most exciting singers to have come on the traditional music scene in recent times. They have just been nominated for the 2002 Radio 2 Horizon award.
8:00pm
Singaround
9:00pm
Bernard Wrigley
<!b>(The Bolton Bullfrog)
---
The Open Door Folk Club
Extravaganza 2

1st & 2nd June 2002
---
We had a great time! Where were you?!! Our regular floor singers were on top form, and the atmosphere was magic. What a variety of guests - up and coming youngsters, old (sorry Bernard!) favourites - there was something for everybody!

Roy Clinging was, unfortunately, not up to his usual form due to illness - but he battled on nevertheless! Dearman, Gammon and Harrison lived up to expectations and beyond - Annie's enthusiasm and enjoyment was evident throughout, ably backed by Vic and Steve; Vic gave a few of his inimitable renditions of old favourites. What was really heartwarming was the way our guests sat in the audience to watch - and not just the other guests, but our regulars, too.

Dave Burland brought Saturday to a close with his unique brand of traditional songs, interspersed with Richard Thompson favourites. We all staggered home, aware that it wasn't all over - we still had to face another day of this!!

Keiron Means is one of those rare people - a young, quiet and unassuming American! His mother, Sara Gray, will be visiting us later in the year, and she can be justifiably proud of her son! He performed mainly traditional American folk music, with some contemporary material. He showed vigour and enthusiasm despite the relatively small audience, as did Spiers and Boden. These two youngsters proved that our English folk heritage is in good hands, and won't be allowed to die out! How refreshing to hear old, well-known tunes given lively new arrangements - without the aid of electronics, just talented young fingers! Last of all we had Emmerdale's Barry Clegg, Coronation Street's bread man and the man with ferrets down his trousers on the beer commercial. No, not a trio! Bernard Wrigley was all of these! We visited Yarmouth Town, the Morket Cor Pork in Blackburn, and the Ramsbottom household when Albert swallowed his Jubilee Sov'rin!

It was hard to believe that the Extravaganza was over - it hardly seemed to have started! Perhaps the most memorable song of the whole weekend was our own Archie Tawney - the Hole in the Elephant's Bottom!! And we recorded it! Should make No. 1 - or at least a lot of No. 2's... ahem... (click here to hear the MP3, around 305Kb file size).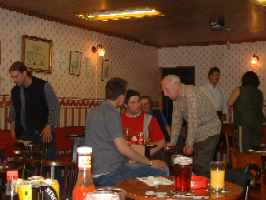 Archie Tawney is seen chatting with Spiers and Boden (centre of picture, left) - some generation gap! Archie is over 80! Pauline is chatting with Bernard Wrigley in the background (right). On the left, Kieron Means is talking... erm... to one of the tables?!
Click on the picture to enlarge it...
and close the picture window to get back here again!
---
Well, that's the second extravaganza over - best make a note of the next one!!

Extravaganza 3 - programme
---
Home Page
Top of Page
---

Website designed and maintained by Bernard Cromarty ©2001-2009