Saturday -
1:00pm
Singaround
3:00pm
Cathryn Craig
and
Brian Willoughby
...set our third extravaganza off to a flying start! Willoughby has played lead guitar with The Strawbs since 1978, as well as being a session musician. He has toured in Nanci Griffith's band. As a Nashville session singer, Cathryn Craig has worked with such artists as Emmylou Harris, Tom Paxton & Bill Medley. Featuring on Brian Willoughby's solo album has led to the successful team of Brian & Cathryn performing together in concert.
5:00pm
Singaround
6:00pm
Bill Caddick
Singer - songwriter, formerly with The Albion Band & The Home Service. Rare visit to the N.W
8:00pm
Singaround
9:00pm
Pete Coe
Pete's singing, playing and dancing (all at the same time!) went down so well at our first Extravaganza a year ago that we asked him back!
Sunday -
2:00pm
Singaround
3:00pm
Jane & Amanda Threlfall
with
Martin Ellison and Roger Edwards

Jane (mandola) and Amanda (viola), along with Martin Ellison (melodeon) and Roger Edwards (Anglo concertina and guitar). Lots of traditional songs and tunes...
Martin and Roger provide plenty of lively tunes, with some spine-tingling unaccompanied singing from Jane and Amanda. Put the four of them together, and... well, come along and find out for yourself!

Sadly, we were originally to have had Buz Collins at this time, who tragically died at the end of August.
May we extend our deepest sympathy to his family and friends.

5:00pm
Singaround
6:00pm
Roam
An exciting acoustic & accomplished folk band performing mostly contemporary material, much of which is original. Based in the N.W, their versatility & vibrancy has already caught the attention of many.
8:00pm
Singaround
9:00pm
Martin Carthy
<!b>
---
The Open Door Folk Club
Extravaganza 3

19th and 20th October 2002
---
The best so far! The atmosphere was really wonderful from start to finish! We had an excellent turn-out of floor singers - our regulars, Pauline, Harry, Bernard, Archie, Cath, Brian, Phil, Maggie, Yvonne, Helen and John; our visitors, Jill, Susie, Big Al, Chris, and, of course, our guests: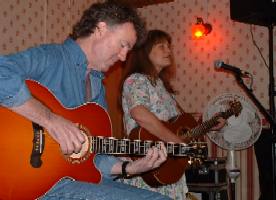 The first of our guests were Brian Willoughby and Cathryn Craig. What a breath of fresh air! Cathryn's choice of songs were taken mostly from traditional English songs learned as a child in the Appalachian Mountains; in fact, her grandfather was interviewed and photographed by none other than Cecil Sharp! Brian's guitar delicately blended with Cathryn's singing, and did not detract from her performance by being intrusive.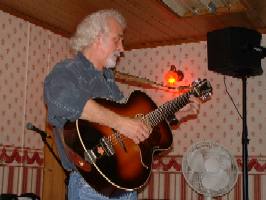 Bill Caddick and his beat-up old 12-string guitar gave us a great selection of both his well-known songs and lesser-known material, finishing with his classic 'John o'Dreams'... as an encore, he gave us Les Barker's parody - 'Custard Creams'!!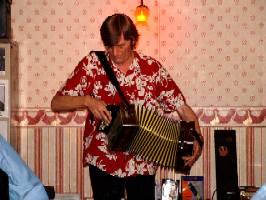 Pete Coe finished our Saturday programme worthily, with his usual mix of singing, playing and dancing - often all three simultaneously! Although a prolific songwriter, Pete has a wide repertoire of traditional material to choose from, too, which is part of his enduring appeal over the many years he has been around. It's astounding to think that his first song, 'The Wizard of Alderley Edge' (written in 1969 I think) is often taken as being 'traditional' these days! Such is the quality of his writing.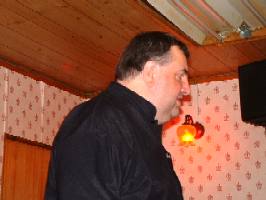 Sunday's programme was presented in great style by Dave Jones of the North West Federation - press ganged by Pauline at Fylde Festival! Dave provided all our links, keeping our audience informed at all times, and Bernard hosted the singarounds. Raffle Queen Pauline kept up her extortion racket throughout the whole weekend, and there were four raffles in total, with most of the prizes donated by John and Iain.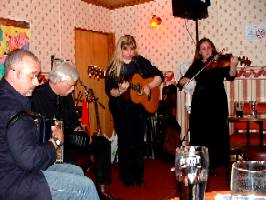 Our first guests for Sunday afternoon were Jane and Amanda Threlfall, with Martin Ellison and Roger Edwards. This spot should have seen the late Buz Collins, and we are grateful that Jane and Amanda were able to step in at such short notice. Their interpretation of traditional music is rapidly becoming legendary, generating a really 'feel-good' atmosphere which they even managed to reproduce on their albums. We have voted them 'Highlight of the Extravaganza'!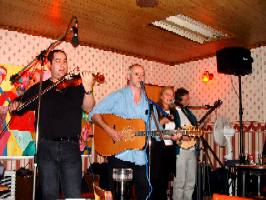 Roam are, to use their own description, 'different'! Much of their material is self-penned, and difficult to pigeonhole. However, a variety of instruments including Uillean Pipes, bass flute, Welsh harp, bouzouki and guitar ensured that the audience all found something of interest to enjoy.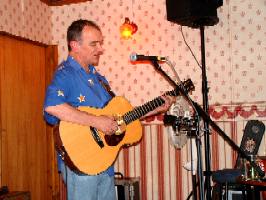 The Extravaganza culminated with living legend Martin Carthy, who was really on good form. We even got the definitive 'Sir Patrick Spens', as well as 'Sauvay' (which, although not normally included in his playlist these days, Martin gamely attempted as a special request for club regular Sara!). 'The Bedmaking' is one of my favourites - we had that, too! It is interesting that, despite having been around the folk scene for well over thirty years, Martin has not lost any of his enthusiasm!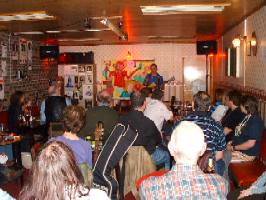 ---
Well, that's the third extravaganza over - best make a note of the next one!!
Extravaganza 4 - programme
---
Home Page
Top of Page
---

Website designed and maintained by Bernard Cromarty ©2001-2009