---
The Open Door Folk Club
Extravaganza 4

22nd & 23rd March 2003
---
It just gets betterer and betterer! An excellent turn-out of floor singers once again - our regulars, Pauline, Harry, Bernard, Archie, Cath, Brian, Phil, Maggie, Yvonne, and Helen, plus Mick, Hilary and Mike...
Our first guest was Marie Little, and what an inspired choice she was! She brought a char-a-banc load of her mates with her, and we had a riotous time! Her unique brand of humour had us splitting our sides laughing, and the next minute a poignant song would fill our eyes with tears!
Dave Jones (of the North West Federation) was our MC for the guest spots and raffles, whilst our own Bernard led the singarounds.
Click on a picture to make it bigger!
Our second guest of the day was Tony Gibbons, who gave us his usual widely varied selection of songs and tunes both traditional and contemporary. Although some of his jokes were a bit dodgy(!), the music was at its sublime best - Tony is one of our best cittern players, which was very evident from today's offerings.
Bringing the first day to a tumultuous climax we had John Spiers (melodeons) and Jon Boden (fiddle), the award winning duo (Radio 2's 'Horizon')! They set everybody's feet tapping, so it was quite a relief when they finished!
...and on to day two!

Just when we thought it couldn't get any better... Rhiannon, Sue, Noreen, John Routledge, Joan, and Taggart & Wright swelled the ranks of the singers!
Brian Peters and Gordon Tyrrall were our first guests of the day, playing and singing a lively mix of traditional and contemporary tunes and songs. These two are both soloists in their own right, but make a formidable duo!! Gordon's flute and Brian's melodeon complement each other beautifully, as do their guitars and Brian's Anglo concertina.
Click on a picture to make it bigger!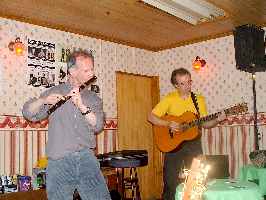 Bob Fox was our next guest, preceded by a few songs from Anne Taggart and Angie Wright, who just happened by!

Bob sang songs from his native North East, plus songs by Ewan MacColl, Alex Glasgow, Jez Lowe and others. Bob isn't that well known in this area, but he made a great impression with his enthusiastic and polished performance!

The weekend really flew by - all of a sudden it was time for our last guest, Harvey Andrews. In his inimitable style, he had the audience eating out of the palm of his hands within seconds of opening his mouth. His anecdote in the second set about the recent removal of his 'Baker's Cyst' had everyone in tucks, leading into his 'grey power' song - 'You Knew We Were Coming'.

Most of Harvey's songs are thought-provoking to a greater or lesser extent, but what really comes across is that he is the consumate professional. He knows what his audience wants, and he delivers!

Well, that's it! Extravaganza 4 is over - book now for Extravaganza 5!!
---
Well, that's the fourth extravaganza over - best make a note of the next one!!
Extravaganza 5 - programme
---
Home Page
Top of Page
---

Website designed and maintained by Bernard Cromarty ©2001-2009