The Open Door Folk Club
Extravaganza 6
Programme

27th and 28th March 2004
---
---
Did you miss it?
---
Saturday
£12.00
Weekend
£20.00
Sunday
£12.00
---
| | | |
| --- | --- | --- |
| Saturday - | 1:00pm | Singaround |
| | 3:00pm | Dulaman |
| | | See their website for more details. |
| | 5:00pm | Singaround |
| | 6:00pm | Debra Cowan (USA) |
| | | See her website for more details. |
| | 8:00pm | Singaround |
| | 9:00pm | John Spiers & Jon Boden |
| | | See their website for more details. |
| | | |
| Sunday - | 2:00pm | Singaround |
| | 3:00pm | Slide |
| | | See their website for more details. |
| | 5:00pm | Singaround |
| | 6:00pm | Brian Willoughby and Cathryn Craig |
| | | See their website for more details. |
| | 8:00pm | Singaround |
| | 9:00pm | Roy Bailey |
| | | <!b>See his website for more details. |
A small, but select audience witnessed yet another glittering variety of folk performances encompassing traditional through to up-to-the-minute contemporary... yes, Stanley Accrington tried out his latest composition on us!
Saturday got off to a quiet start - as Bernard, Pauline, Phil, Maggie and Cath were the only singers available during the singarounds, we decided to do two each per turn. If Dulaman and Debra Cowan hadn't arrived early with their respective entourages, it would have been a rather dismal start to the weekend...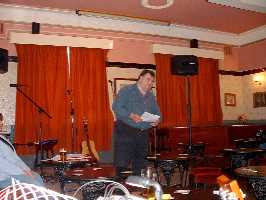 Dave Jones - MC

Dulaman (they pronounce it Dull-a-man, not Dew-la-man!) then took to the stage, introduced by Folk North West's Dave Jones who was, once again, our MC for the weekend, and we had an excellent couple of sets from four very accomplished young musicians. Their music varied from new arrangements of traditional material through to bluegrass - all played with skill and enthusiasm!

On the far left was Eleanor, who sang and played double bass; middle left was Anna, who sang and played fiddle; middle right was James, who sang and played guitar, with David on far right singing and playing mandolin... oh, and David also sang and played guitar for a floor spot during the singaround!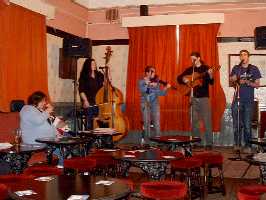 Dulaman

Debra Cowan was our second guest of the day, and we heard some very interesting and varied material of both Engish and American origins, including some 'new verses' to 'Nancy'... which sounded suspiciously like Pinball Wizard!! We were also treated to 'Good Fish Chowder', which is available for free download from her website. Unfortunately, Dulaman had to leave as they had another gig in the evening, so the audience dwindled somewhat.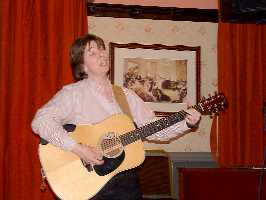 Debra Cowan

The final guests for Saturday were John Spiers and Jon Boden, making their third appearance at the Open Door! They haven't forgotten that we were the first club to offer them a festival spot (Extravaganza 2 in June 2002), a fact of which we are extremely proud!

In case you don't know them, John plays various melodeons and his new Anglo concertina, Jon plays fiddle and stamps his feet a lot on a big board, and they both sing!

John Spiers and Jon Boden

Sunday also got off to a quiet start - again, if Slide hadn't brought a few friends with them it would have looked very silly when they got up on stage and outnumbered the audience... well, almost!

What can we say about Slide? Well, Tom Napper Tom Bliss are rapidly becoming well known as a duo, and Slide is Tom Bliss's band. On this occasion, Tom Napper was guesting with the band, so we had the best of both!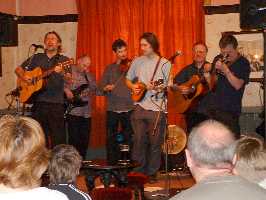 Slide

Cathryn Craig and Brian Willoughby were visiting the Open Door for the second time, and we were delighted to find that they presented a different range of material from that of their first appearance. Too many folk performers have a set list that they vary ever so slightly, but tends to be essentially the same each time you see them. Not so Cathryn and Brian! Not that we would have minded - Cathryn is a joy to listen to, as she obviously enjoys all the material she sings. As for Brian... well... all the guitarists in the room were ready for stamping all over his fingers...!! Grrrr!!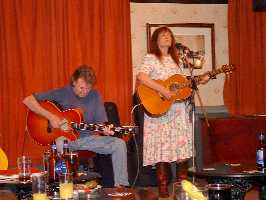 Cathryn Craig
and
Brian Willoughby

Roy Bailey, although approaching his seventieth birthday, still puts his all into every performance, still seems to enjoy every minute of it, and his audience love it! Even when he chose to sing a couple of songs from his new (ish) children's collection, those present joined in with great gusto!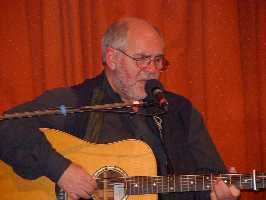 Roy Bailey

On behalf of everyone, we would like to thank Pauline and John for lining up such great entertainment for the weekend, Dave Jones for his usual polished, professional introduction of all our guests, Bernard for running the singarounds and providing the PA, John and Iain for providing all the raffle prizes, and by no means least, Naomi and Paul of the Star Inn and their staff for helping everything to go smoothly and without incident...!!
---
Well, that's the sixth extravaganza over - best make a note of the next one!!
Extravaganza 7 - programme
---
Home Page
Top of Page
---

Website designed and maintained by Bernard Cromarty ©2001-2009